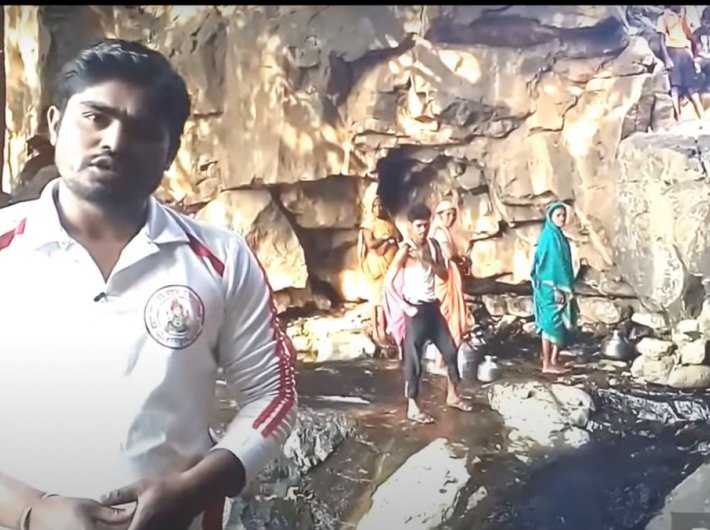 A band of volunteers are using phones to improve grassroots governance in Maharashtra district In the tribal village of Bilgaon in Dhadgaon taluka of Nandurbar district, Vangibai Natwar Pawar, 47, was caught unawares when she came to know her account balance in her 'mini bank' of her village was only Rs 100.
Her last transaction barely three months ago – in March 2020, at the beginning of the lockdown – was a withdrawal of Rs 800. Her account (maintained through a business correspondent) had balance of Rs 11,000 then. She returned home perplexed.
Vangibai had heard about Aadiwasi Janagruti volunteers who were helping villagers. These local volunteers were shooting videos of problems faced by villagers and taking them to local authorities for solutions.
Months later, during a casual chat with village volunteer Arjun Pawra, she mentioned the incident. Upon checking the mini statement at an ATM, Pawra found that Rs 10,000 had been siphoned off from her mini bank account immediately after she had left the place. When Pawra confronted the business correspondent (BC, who provides banking facilities outreach in far-flung places), he initially claimed he didn't know anything. When Pawra threatened to report the incident to the bank and also file a police complaint which could lead to cancellation of his licence, the BC admitted his foul play and immediately retuned Rs 10, 000 to Vangibai.
Close by, in village Aamkhedi, women had to walk three-four kms to fetch water for their daily needs. They approached Aadiwasi Janajagruti volunteers to shoot videos, hoping that the local administration would help them after watching them. Pawra and two more volunteers shot a documentary which was shown to the village block development officer. That set the wheels in motion. It came to light that the village had been provided funds for the purpose, but they had remain unutilised. The gram panchayat convened a meeting and allotted money to drill six bore wells.
In Umrani village of Dhadgaon taluka, where the nagar panchayat was not utilizing its funds for roads, the volunteers helped with construction of pucca roads.
Aadiwasi Janjagruti on Social Media:
https://www.facebook.com/aadiwasijanjagruti
https://www.instagram.com/ajanjagruti
https://www.twitter.com/ajanjagruti
https://youtube.com/aadiwasijanjagruti
Since 2016 Aadiwasi Janjagruti has been working in underdeveloped Dhadgaon block of Nandurbar and 150 surrounding villages in areas, spanning Tapi, Indore, Khetiya and others. Volunteers, usually 25-35-year old but some teenagers too, have been working pro bono to bridge the gap between villagers and government with a two-pronged approach, addressing villagers and addressing the local administration.
Mobile videos on local problems are shot in local languages like Pawari, Bhilori and Ahrani to create awareness for villagers in an entertaining manner, highlighting various government welfare schemes and how these can be availed. Videos meant for the administration help them understand ground realities, difficulties faced by villagers and why state welfare schemes are not reaching intended beneficiaries.
Where the government allocates funds and resources for villages through welfare schemes often they don't reach beneficiaries due to lack of awareness and education at the level of villagers. At official level, corruption by block development officers, ration dealers and others coupled with red-tapism prevent welfare initiatives from reaching those they are intended for.
Nitesh Bhardwaj, founder of Aadiwasi Janjagruti, recalls that during his fellowship program at Dhadgaon he saw how, despite allocation of funds for various schemes, locals were not availing them due to a communication gap between. That led him to start this project, taking along the local communities as key stakeholders, he tells Governance Now on phone.
"On the suggestion of local students, mobile phones were used to shoot videos on issues of child labour, Swachchh Bharat Mission (supported by the then Nandurbar collector, Dr Mallinath Kalshetty) and now also on Covid-19 awareness and vaccination, among other subjects. It started with making short films to create awareness on government schemes. As locals wanted us to raise these issues, we started making mobile videos on these issues. We are now working with different gram panchayats and block administrations who want us to show these films in their meetings. Through mobile projectors our films are also shown in self- help groups," he says.
When the Pradhan Mantri Aawas Yojana provides for Rs 1.20 lakh annually to beneficiaries in instalments, Bhardwaj says giving an example, what happens is that after getting one instalment they are not able to avail further instalments due to some or other problem. "We guide them to approach the concerned officials for complaint in case anyone is demanding bribe. Last year, during the lockdown a video on involvement of a local level official in corruption in the PMAY led to his suspension.
"We also noticed a problem of ration distribution during the lockdown. If you were not able to take ration on time due to, say, geographical difficulties, someone else was picking it up in your name and you only come to know later. We also saw that for every transaction of withdrawal from villagers' accounts, mini banks are charging villagers Rs 10-20 when they are travelling 20-25 kms to mini banks to get money. After our complaints to SBI, licences of 10-11 mini banks were cancelled and the bank manager of SBI was transferred."
This episode also led to a police complaint being filed for threats of assault against two volunteers. But few days later at the Dhadgaon village panchayat meeting the complainant could not identify the volunteers.
"We are not here to ruffle feathers or pick fights with anyone. We only help villagers so they don't have to pay bribes to avail welfare schemes. The advantage of such projects is that our volunteers are local youth and alert citizens who make films in local languages. They find huge support from local people as well local the administration, politicians and sarpanches," says Bhradwaj.
The Aadiwasi Janjagruti has a self-sustainable revenue model. Everybody is a volunteer and works for free. But the videos, thanks to their large audience, are ideal for local businesses to place their advertisements, and there's money from social media platforms like YouTube too. A percentage of that revenue is shared with volunteers and the balance is kept for organisational setup. With Covid guidelines in force, the videos are now shown through Facebook, You Tube, WhatsApp and other social media platforms. The organisation is now even registered as a not-for-profit, named 'Ulgulan for Social Change Foundation', with the Ministry of Corporate Affairs.
Volunteers have won the confidence of villagers who share their problems with volunteers. The locals now encourage them to shoot more videos so that help can be provided to them. The group in now also working to promote awareness on the Maharashtra government's 'Khauti Yojana' in tribal areas as well as on the MNREGA.
"While all government schemes are available in tribal areas you don't see their local benefits as people don't know how to put them to use. Where a scheme provides Rs 800 per month and Rs 9,600 for 12 months to beneficiaries, they are told to pay Rs 2,000 to avail the scheme," adds Bhardwaj.
Aadiwasi Janjagruti was recently facilitated with the 'Social Media for Empowerment Award 2020-21' from the Digital Empowerment Foundation under the Citizen Media and Journalism category.
In the process, the volunteers are becoming thorough pros on grassroots governance. Arjun Pawara, the face of Aadiwasi Janjagruti, was selected for the Entrepreneurship Development Programme organised by the famed Institute of Rural Management, Anand (IRMA) in February 2020. Rakesh Pawara, one of the founding members, was invited to speak about his journey as a change-maker at an orientation session of the Youth for India Fellowship Program, run by State Bank of India Foundation, in 2018. [Also see: https://www.facebook.com/ConnectingDreamsFoundation/posts/changemakersforgramswarajyanaresh-more-comes-from-dhadgaon-block-of-nandurbar-di/1266873243508249/]